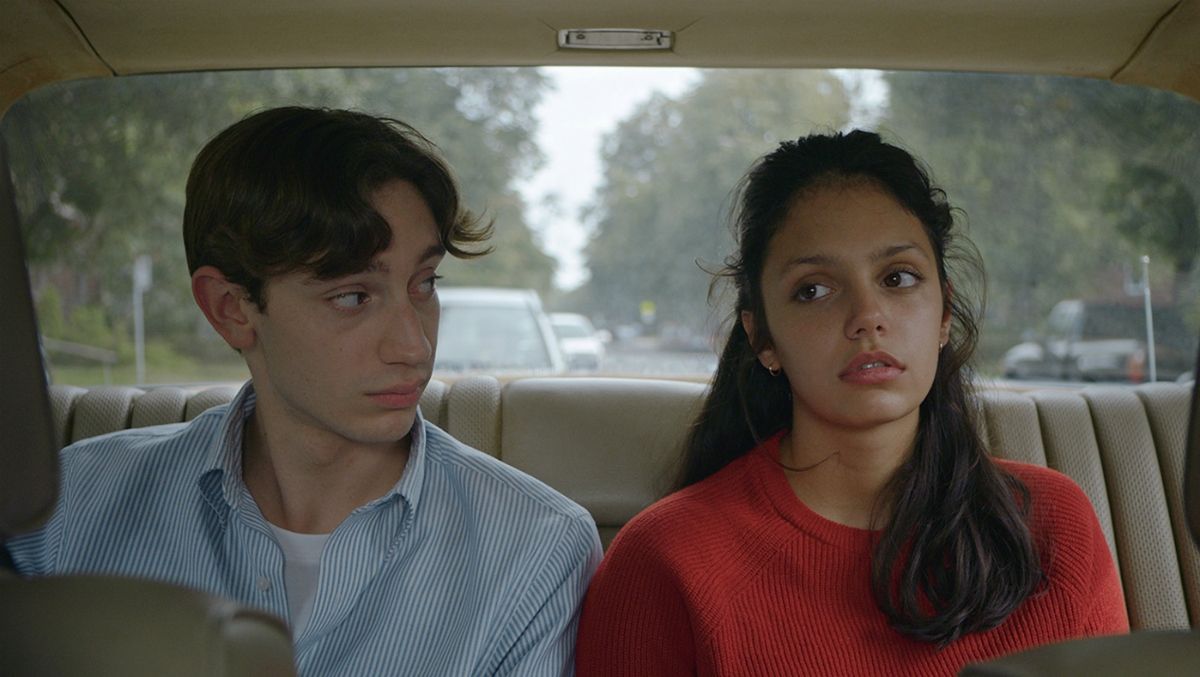 Why Genesis Is A Coming Of Age Movie We Need Right Now
Philippe Lesage Genesis (Genesis) premiered at the Locarno Festival in 2018, but, especially these days, it's a must-have. Genesis has won numerous awards, including the Golden Wolf (Festival du nouveau cinema, Montreal). It has also been selected for screening at the Museum of Modern Art, AFI FEST and the Film Society of Lincoln Center. The film stars Théodore Pellerin and Noée Abita as Guillaume Bonnet and Charlotte, teenage half-siblings struggling with romance simultaneously.
Similar to his narrative debut with The demons from 2015, Quebec writer-director Philippe Lesage Genesis in a highly autobiographical story with added elements of longing, self-discovery, curiosity and betrayal. The mysterious world of adults shatters the idealism of its characters and makes many of their greatest qualities pale. Especially these days, coming-of-age movies that go way beyond their genre label with their boldness and complexity are of the utmost importance. Maybe we, as adults, should sometimes breathe, reflect and take a sharp return to our roots. Being vulnerable, authentic and honest might serve us better after all.
A child can understand complex things
The official synopsis for the film reads as follows:
"Three teenagers are shaken up by their first love in the turmoil of their youth. At a time when others conform, they hold on and claim their right to love and freedom, Guillaume, 16, and Charlotte , 18, are half-siblings and simultaneously struggling with romance; she is in a relationship with Maxime, but reeling from his proposal to change to an open relationship. So she goes from relationship to relationship. another (and always with the wrong guy), which has devastating consequences.Guillaume is a student in a boarding school for boys and develops a romantic and sexual attraction for his classmate Nicolas.
Lesage transcends the coming-of-age category by creating complex characters with intense inner lives and a broad emotional landscape. It goes against the idea that children cannot be as or even more mature and emotionally intelligent than adults. Genesis, much like his former work of fiction, makes us seek out and nurture the children within us, pondering the virtues we tend to lose as we enter adulthood. Its protagonists may be young, but they are old at heart. They are charismatic, courageous, live their life without building walls around them. They are ready to explore their identity, their sexuality and their environment. Lesage makes us wonder how corrupted we children are by the cynicism of this world.
Related: Licorice Pizza Is The Coming-of-Age Story We Needed This Year
"Youth is a period of life that I find fascinating. – the filmmaker told Art Here Art Now. He goes on to say:
"I think in a way we should stay young at heart. The problem is that when you're young, you're so defenseless, but you welcome passion without being afraid of getting hurt, for example. You have to keep this spontaneous and fresh look at the word (…) I think it's a good time. It's like falling in love with the wrong person. You arrange an appointment, the person tells you "I'll be there". You go there, wait, but the person just doesn't show up. It makes you very angry. The next day, out of the blue, this person calls and says they are free to meet now. You drop everything and run. You forget every wound. It's loving without trying to protect yourself in any way. It's brave and beautiful.
Playing with structure and throwing rules out the window
Lesage experiments with the form itself, breaking up the narrative to shake us up, plunging us into a story of unusual naturalism. Our journey zigzags and leaves us plenty of room for our own exploration instead of going straight from A to B. Even mundane things can lead to an epic journey. So, Genesis does not use manipulative techniques and tools, trusts his audience and engages in a two-way conversation with them.
"I like to break down the narratives in all of my films, I like to go beyond the rules of traditional ways of telling stories. I like to mess up the structure. You know, the end of Genesis is a bit controversial, for example. Some people don't understand, and I think that's wonderful. I mean, if you like certain parts of the movie, I'm happy. – added the filmmaker. The Canadian director paints with confident brushstrokes, allowing us to observe and experience the story using a number of wide shots and as few cuts as possible. His films could be of an unusual tempo to our eyes accustomed to the frantic pace of the general public. It's definitely not a superhero movie. Nonetheless, challenging our rapidly shrinking attention span can be a good thing.
The beauty of honesty
Lesage opened up about his inspirations saying:
"As a filmmaker, I feel like it's my duty to come back to my own pain and shame. The more honest I am about these things, the more people can relate to my stories and c It's incredible. That's another story, but there's always a monster in my films. Hidden somewhere. The violent pet peeve. What interests me is exploring the dark side that lies dormant in everyone of us. Showing both the dark side and the light side of my characters, without judging them."
In many films by the Canadian filmmaker, internal tension is the main driving force behind the characters. It emphasizes the complexity of the inner life, not the transformation of the character. Talking only about the transformation triggered by the reaction would help tell much less interesting and realistic stories for sure. Coming back to personal experiences, making autobiographical films is a common but courageous choice among authors.
Related: Here are some of the best TV shows about being a teenager
This has especially paid off for many newbie filmmakers in the past. Just think of widely recognized industry professionals such as François Truffaut and The 400 blows or Bill Douglas and My childhood. Lesage also sees adulthood as a less constraining period where too often hypocrisy beats honesty. In the interview, the filmmaker concludes:
"The thing is, as you get older, you become more stable and also more boring. Our stories become less interesting. Less honest. It's a terrible thing to admit, but I don't think honesty is in fashion right now. For example, we expect artists to open up about their childhood, to share their experiences, good or bad, to express their sincere opinions, but if they decide to be really honest, it never ends. not always good for them. So they continue to fabricate a false and whitewashed image of themselves on social media, etc. We collectively value honesty, but everything in society now tells us not to be honest. Hypocrisy pays. »
Genesis is available to stream now. Watch it on IMDb TV, Kanopy, Plex – Free Movies & TV, The Roku Channel, The Roku Channel, Spectrum TV, Vudu Movie & TV Store, VUDU, Prime Video or Apple TV on your Roku device.
Bill Skarsgard set to play Eric Draven in The Crow Reboot
Read more
About the Author